Interior Auto Sunvisors
Authentic Replacement Auto Sun Visors
by
Vinyl Specialties™
Manufacturer Direct Prices
Vinyl Specialties has been in the general vinyl recovering business for

32 years and specializing in automobile sun visors for 28 years.

In 1987, unable to locate visors for my own classic car restoration nor find a quality restoration vendor, I recovered the visors myself. I then developed tools, processes and skills for specialized custom car sun visor recovery, along with locating authentic material suppliers.
Look through our web site. We can restore just about any sun visor, ask us. We also make authentic replacement sun visors for many General Motors classic cars along with Mustangs and trucks.

In addition to authentic sun visors we also offer several accessory and related products--- vanity mirrors, chrome/black mounting brackets, bushings and headliner replacements (kits, ABS molded, bulk material). Also, we offer replacement convertible tops and parts for selected models.
Please feel free to contact us with any question by email, fax or telephone.
We take pride in our satisfied customers.
Details on our superior construction quality and workmanship!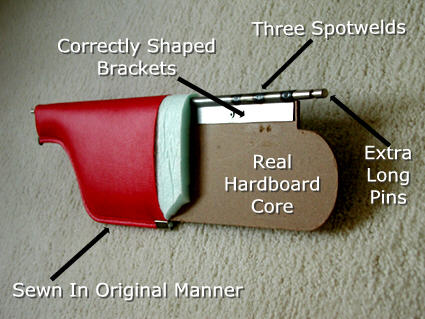 Vinyl Specialties, Inc.™
Darren R. DeSantis
Copyright© 2000-2015 Vinyl Specialties [2015_02_14]